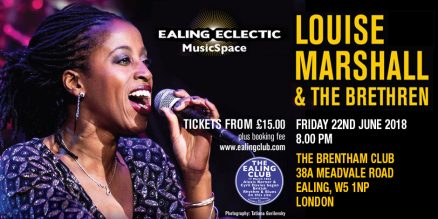 Louise Marshall and The Brethren
Date:

February 15, 2019

Time:

8:00

Location:

Ealing, London

Venue:

The Brentham Club,
I'm delighted to perform once again in Ealing at The Brentham Club with a stellar line up of Luke Smith on Keys, Dave Ital on Guitar, Carlos Hercules on drums and Steve Pearce on bass.
Looking forward to seeing you all down there, book your tickets through
www.ealingclub.com to be guaranteed a good seat.
You can also watch the live recording of the show, see here for details

See you there.